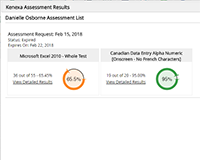 IBM Kenexa Assess on Cloud Integration
The latest update for PCRecruiter includes integration with IBM Kenexa Assess On Cloud, bringing a broad range of candidate assessments to your selection or development process. Whether you're gauging job fit, traits, or skills, PCRecruiter and Kenexa Assess can help you find the right people for any level from entry to C-Suite.
Learn how this huge library of behavioral and skills tests integrates with your PCRecruiter system in the video below, and contact AssessmentClientSupport@us.ibm.com to get started. IBM offers further detail on their website at https://www.ibm.com/us-en/marketplace/employee-assessments.
Trackback from your site.