PCRecruiter v.9.7.29 was released on our hosting system this morning, and with it comes several great new features, in addition to our usual round of performance improvements and under-the-hood preparation for upcoming announcements.
Google Analytics for the PCRecruiter Job Board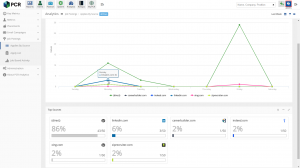 The PCRecruiter Analytics can now share event tracking with Google Analytics, sharing the web traffic events from your PCRecruiter Job Board. The result is new insight into your candidate sources and a better handle on the paths taken through your job board. Once you've set up Google Analytics on your website, see our Learning Center for further setup instructions.
Related: PCRecruiter Job Board, PCRecruiter Analytics
Updated Job Board Duplicate Handling
The Job Board now has a completely revised method of handling applicants who apply using new credentials or who apply with a record that's already on file. In short, PCRecruiter now recognizes them based on a matching email, resume, or LinkedIn profile URL and then updates the current record without allowing the visitor to access any of the existing data for that record. Learn more about Job Board setup and duplicates in the Learning Center.
Related: PCRecruiter Job Board
Export Profile
You'll find a new action menu item on the Rollup List screens. With this feature, you can select a group of records and export the answers to any attached profile form into a .CSV file. For more information, see our Learning Center.
Simplified History Fields Dates
We've replaced the calendar picker with a simpler month/year dropdown combination on the Work History, Education History, and Military History collection blocks. This will make the interface clearer and more reliable for applicants, who often do not know the exact day on which they began or ended a particular engagement. Learn more about History Fields in our Learning Center.
We'll be making further exciting announcements about new features and integrations in the coming weeks, so watch this blog for more, and follow us on Facebook or Twitter.
Also…

We've also added a new company, Financing Solutions, to our roster of strategic partnerships. Financing Solutions can provide up to a $100,000 business line of credit for small businesses as a backup when cash flow is low. They offer no-cost setup and inexpensive fees when used. No collateral or personal guarantees are needed. You'll get an easily understood written quote after completing a fast 2-minute online application. Lines are renewed yearly and can be paid back at any time. $400,000 in yearly revenue and 650+ credit score required. If you're in need of credit for your recruiting or staffing agency, please visit www.financingsolutionsnow.com/pcr or call Christina Verduchi at 862-207-4118 x 18.
The Main Sequence team has released a fresh update to PCRecruiter this week. This update includes enhancements to the Job Board among other things, and also behind-the-scenes changes to prepare for some great integrations we'll be announcing soon. Let's look at what's been updated this week.First, we've integrated the PCRecruiter Job Board with Google Analytics. Google Analytics is a free product from Google that tracks your website traffic for analysis and reporting. But Google can only tell you where visitors came from and what pages they visited. It can't tell you who they were or whether they were a qualified candidate. On the other side, the PCRecruiter Analytics help you visualize your recruitment metrics, but PCRecruiter alone doesn't know how candidates arrived at your website or travelled through its pages to reach a job application.
By combining these tools, you'll bridge that gap, allowing you to associate the sourcing and navigation data tracked in Google with the candidates in your PCRecruiter pipeline.
Once this connection has been enabled for your website and Job Board, the two systems share tracking events, giving you insight into which paid and organic traffic sources are generating the most value, and helping you to better identify trends in candidate engagement and falloff. The result is a more informed recruitment marketing strategy.
This update also includes changes to how the Job Board handles duplicate and returning candidates. The Job Board offers multiple ways for a new candidate to generate a Name record, including popular social networks or an email and password combination. These credentials serve as their login on return visits.
But what happens if someone returns to the Job Board and uses a different network to register than they did the first time? Or if the candidate was already in your database from an import or a manual entry before they ever came to the Job Board?
Well, it would be a security risk for PCR to show someone data from an existing record if they're not using the same credentials on file for that record. It could also be problematic for first-time visitors to your Job Board to discover that you've already got information about them on file.
To avoid exposing data or complicating the apply process, earlier versions of PCRecruiter would simply create a new record for these candidates and identify them as probable duplicates for the user to merge. The latest update simplifies the process and reduces effort without complicating the candidate experience.
If someone applies on your Job Board with a resume, email address, or LinkedIn profile URL that matches a record already in the system, but they do not use that record's Job Board credentials, the system will update their existing record with the newly supplied information without allowing that visitor to see the old data on file.
Rather than having two name records for the two different logins, you'll have one record for that candidate in the system, and their independent logins will be treated as separate Job Board identities that can only see the data that was created while using that identity. This will greatly reduce the chances of duplicate records in your database, while also protecting the existing data from being seen by any visitor who doesn't use that record's login.
Another change that may affect your Job Board or custom forms is a new simplification of dates in the History Fields. As of this version, the Date fields in our pre-built blocks for Employment, Education, and Military History will only collect Month and Year rather than requiring a full date, as the specific day for these sorts of entries is often unknown or irrelevant. For Licensing entries, the specific day is still required.
Lastly, we've added a new Export Profile action to the Rollup screens. Using this feature, you can select a group of records, pick a profile form which is attached to those records, optionally choose a cutoff date, and then export a comma-separated file of the answers stored in those forms. This can be useful in evaluating or charting responses to questionnaires, or in importing answer data to other systems.
For more information on these new features, get in touch with your Main Sequence representative. We have a lot more to show you this summer, so be sure to follow our social networks and watch for the announcement banner when you log into PCRecruiter. If you have suggestions for future versions of PCR, post them in the Ideas forum at help.pcrecruiter.com.