PCRecruiter will be updated this Wednesday to version 9.8.4, which contains a brand new Map feature as well as a major redesign to our Notes screen and widget. These updates are a precursor to some very exciting new improvements you'll be seeing in PCRecruiter over the next few months. Keep your eyes out for the quick guide popups when you log into the system for the latest info, and watch our blog and social networks for posts like this one.
Contact Mapping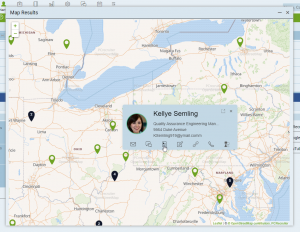 A new 'Map Results' icon has been added to the Name Search Results screen. After selecting one or more contacts returned by any name search, clicking this icon will plot their home addresses on an interactive map. This can be very useful for those who do contract recruiting and want to easily identify candidates located near the job site.
Clicking on any pin in the map displays the record's contact card for access to the resume, email, phone, and other interactions.
Although this feature is offered at no additional cost, it may require an update to your database to activate and is therefore currently 'off' by default for current clients. If you would like to have the Map function enabled on your database, contact your PCRecruiter consultant.
Note: The Maps are currently US only, but will be expanding to international clients in an upcoming release.
Notes Redesigned
Notes are keyword-searchable candidate, client, or position information that doesn't correspond to an event with a particular date or time (those would be Activities.) This update includes a major improvement to the way you'll enter and view Notes that offers better visibility and organization. The new interface also saves time by putting the ability to edit Notes directly into the primary record view rather than only via the full Notes panel.
The new Notes Widget includes an open area for entering and editing Notes on the left, and individual boxes for each exist Note to the right. Your notes are viewable in a grid or list layout, depending on your screen space needs. The notes are sorted by date, but you can bookmark your key information to keep it always at the top of the list. There's even a keyword search box for quickly finding the notes you're after in any record.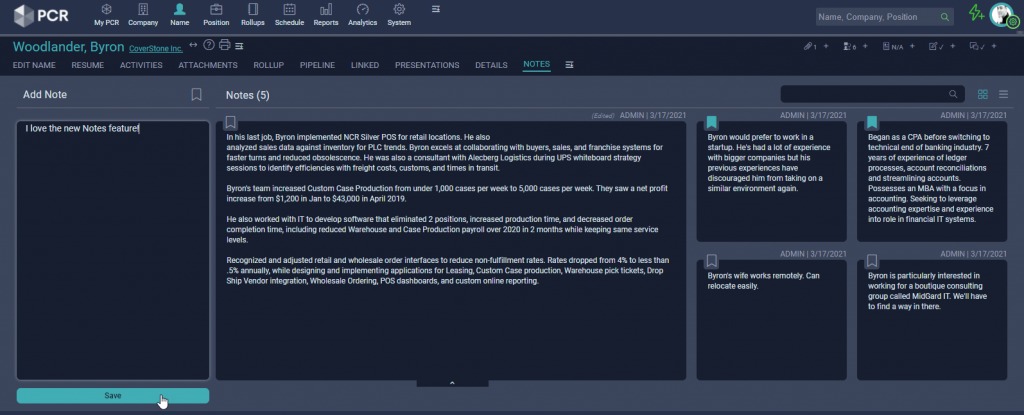 This change in the Notes screen applies to both the widget in your custom record layout and the full Notes panel on your records. In addition, this new change has been extended to Notes on your Company and Position records, creating a consistent experience across all three record types.
Review PCRecruiter — Get a Gift Card
Thanks to reviewers like you, PCRecruiter continues be ranked as one of the top recruiting software, recruitment CRM, and ATS solutions on the market. The Spring 2021 reports from G2 have PCRecruiter once again in the 'Leader' quadrant and showing some of the highest customer satisfaction ratings in the industry. We appreciate your kudos and we look forward to continuing to satisfy your needs.
If you'd like to have your voice included, and get rewarded with a gift card for your time, you may do so at Software Reviews, G2, and Capterra.