PCRecruiter is now integrated directly with hireEZ, the #1 AI-powered outbound recruiting platform. In addition to making outbound recruiting easy, this partnership helps PCRecruiter users keep their own private talent pool updated with the latest information about their candidates.
Unleash access to 800M+ candidates from 45+ open web platforms, get market insights and DE&I information to build data-driven recruiting strategies and maximize the value of your existing PCRecruiter database.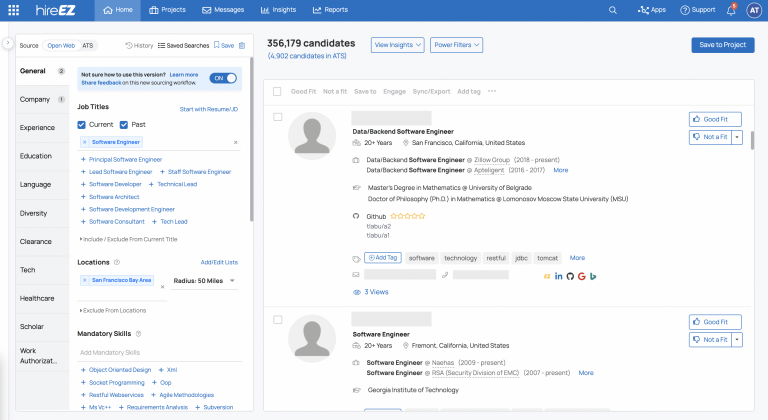 Keep your database fresh and growing.
Use the new 'Enrich with hireEZ' option in the Action menu on your Name records in PCRecruiter with your API key from hireEZ to quickly turn your aging data into actionable data.
Export candidates from your hireEZ projects directly to your PCRecruiter database.
Allow hireEZ to source your PCRecruiter data for target candidates, and to offer metrics and insights on your talent pool.
Ready to get started?
Visit https://hireez.com
For more information on using this new integration, see the hireEZ page in our Learning Center.
---
Review PCRecruiter – Get a Gift Card!
PCRecruiter was recently awarded a "Top Rated" badge in the Recruitment Agency software category on TrustRadius. We also made top-billing this year on G2 and other review sites, ranking as one of the Top 10 Staffing software options based on independent reviews from our users.
You can share your opinion of PCRecruiter and, in many cases, you'll receive a gift card from the review site for your time. These gift card incentives are in limited supply, so we invite you to post your review of PCRecruiter by following any of these links soon: Capterra, G2, TrustRadius, and SoftwareReviews.