The leader in Artificial People Intelligence
Hire Top Talent — Faster
Through AI and machine learning technology, Arya identifies, organizes, and retains candidate and job intelligence to find and automatically engage the best talent faster and easier than ever before. The Arya platform adds an element of innovation, efficiency, and unbiased knowledge-depth to your organization, turning average performers into star recruiters. Using AI technology, Arya harnesses your recruiting knowledge and successful hiring trends to make the connection between past successes and future placements.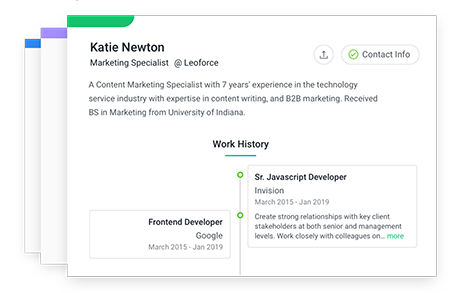 Arya populates your pipelines with the right candidates for each position — faster than humanly possible.
Confidently Build Recruiting Intelligence
Arya uses machine learning to identify successful sourcing patterns in your database and draws potential candidates out of your PCRecruiter data and millions of online profiles. Arya learns and adapts successful hiring techniques to find the best possible talent for the given role, significantly reducing the time it takes to identify and hire top candidates.
Your team gets a behind-the-scenes look at Arya's sourcing strategy which beautifully displays, within seconds, primary data components that Arya considers when sourcing top candidates for a role, including similar companies, industries, keyword sets, job functions, BLS data, and a heat map showing where these candidates live and work. Even export and share with hiring managers and clients to give them deeper insight into Arya's AI at work.
Predict candidates' success and cultural fit
Get unprecedented candidate and job intel
Become more targeted and relevant in your candidate communications
Make intelligent driven hires
How it works
1) Scopes your process
Arya uses the PCRecruiter API to securely connect to your database, evaluating your job descriptions and candidate data and monitoring daily recruiting practices.
2) Analyzes your hiring patterns
Using previously successful hiring patterns, Arya searches for quality candidates across multiple channels; including job boards, your PCRecruiter database, social media sites, and the open web.
3) Identifies the right talent
Once Arya identifies qualified candidates, it reaches out to them to gauge their interest level and likeliness to move.
4) Engages with the top candidates
Arya then pulls the qualified and interested candidates directly into your PCR pipeline, so you can begin engaging.
Find Out More
Web: GoArya
Phone: +1.833.LEOFORCE
Email: sales@leoforce.com
---
Arya empowers recruiting organizations to analyze multi-dimensional candidates, unlock historical insights, and truly understand people. This enables those in talent acquisition to focus on what they do best — build quality relationships with ideal candidates.
60% of candidates say "better communication throughout and after the applicant process," would make the most positive impact.
55% of employees are willing to wait less than two weeks to hear back from an employer before they give up on the position.
The best candidates are only in the job market for a short period of time. If your screening process stalls, or if you make applicants jump through unnecessary hoops, you'll lose great job seekers.