Customer Relationship Management (CRM) is a term with connotations that have outgrown its original use. The people tracked in CRM systems don't have to be customers, and a system may only seek to handle certain aspects of relationships. That's where a recruitment CRM differs.
In recruiting, CRM has come to mean working with people who are not necessarily applicants, and with entities that are not likely to be customers. The contacts may be prospects, candidates, or referrers, and the entities may be targets/sources of talent, internal departments of one's own organization, or any grouping of people applicable to a recruiting effort, such as a trade-association or online community.
PCRecruiter as a Recruitment CRM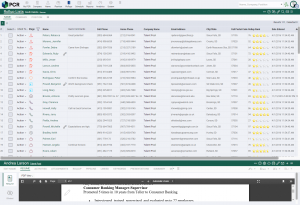 PCRecruiter's multi-purpose record grouping system, called Rollup Lists, enables highly-effective recruiting CRM. You can place Names, Organizations/Departments, or Jobs on one or many Rollup Lists for serious control of large amounts of data, and for managing tasks such as:
Storing search results
Sending bulk emails
Driving recruitment automation sequences
Mass-moving or deleting records
Sorting records into subgroups
Routing multiple resumes to managers
Creating calling lists or planning activities
These flexible groupings are central to practically every recruiting task performed in PCRecruiter.
Beyond the Rollup List feature, the underlying PCRecruiter data model is uniquely effective in that it required all name records to carry a hard association to some group record. This is important when functioning as a recruitment CRM, because sometimes you are working with people and other times with groups, and the context of those uses changing depending on the project or task at hand.
Another important dimension of PCRecruiter as a CRM for recruiters is the separation of activity relating to records/events from the personal schedules of people using the system. A successful CRM tool gives recruiters the flexible and fluid ability to create and separate, transact and evolve past, present, and future events in correct context. PCRecruiter has the tools you'll need to classify and manage events and calendar items, including synchronization with MS Outlook, Google Calendar, IMAP, email, and voice options.
PCRecruiter brings the power of a recruitment CRM and applicant tracking system into a single platform. Talk to one of our consultants about how it can improve your workflow.