PCRecruiter's Position Pipeline keeps your candidate placement operation organized for a quick, intuitive, and efficient process. Based on kanban style tools, the Pipeline makes it easy to visualize your workflow and move your candidates through your unique recruiting process by dragging record cards between columns.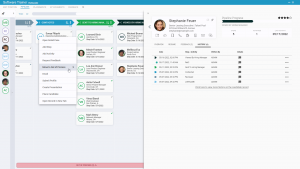 Candidates come into the Pipeline inbox in a variety of ways, including:
From the individual

Name record

From popular websites using the PCR Capture browser plugin

Directly from your Gmail or Outlook inbox

Self-entry via the PCRecruiter Job Board

By using the Pipeline's built-in search
Database admins can define multiple independent workflows to accomodate the variations between permanent and contract placement processes, distinct industries, or even specific clients. The appropriate workflow is selected when the job is created.
Within the Pipeline its easy to view and edit basic details for your candidates, and perform simple actions like resume management, phone call or email launching, and adding to lists. You can easily review and compare multiple records, tabbing between their resumes, feedback, history, and more. When you find candidates of interest, they can be bookmarked for easy access.
The right-click menu allows you to schedule interviews and other appointments, move candidates to new Steps, and send pipeline email templates and feedback requests. You can also use the panels at the bottom of the screen to send Form Letters, add records to powerful Rollup Lists, send Candidate Presentation packages, or move candidates Out of Process.
Using the alternate display modes for simplified card views and list layouts lets you maximize the screen space as you please.
Are you already using PCRecruiter and want to get started with the Pipeline? Contact the PCRecruiter team via this form.