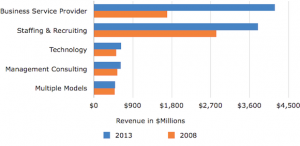 Our friends at Software Advice have analyzed the new Inc., Magazine "Inc. 5000." list and have compared it with the 2008 listing. Their conclusion is that the "HR ecosystem" has grown and changed, consolidating, gaining employees and generating more revenue than five years ago. We'd like to think PCRecruiter has something to do with that, naturally.
For complete details, check out their study at http://www.softwareadvice.com/hr/industryview/hr-ecosystem/
Follow us on Facebook, Twitter, LinkedIn, join our LinkedIn Users Group, or YouTube to stay in the loop, and watch the lower portion of of your PCRecruiter login screen for all the latest blog posts and updates.