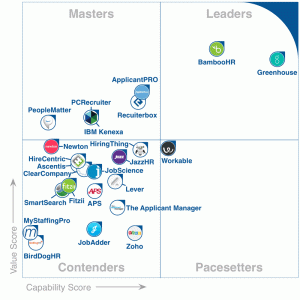 Earlier this year, SoftwareAdvice released their latest FrontRunners data. Main Sequence is proud to see PCRecruiter listed in the Masters quadrant, scoring 4+ out of 5 on most of the measured stats, such as Value (4.26) and Integrations (4.9).
FrontRunners is powered by Gartner Methodology and offers a data-driven assessment of the most capable and valuable systems for small businesses. It's driven by real user reviews/ratings, and verified product data.
The content for the FrontRunners quadrant is derived from actual end-user reviews and ratings as well as vendor-supplied and publicly available product and company information that gets applied against a documented methodology. The results neither represent the views of, nor constitute an endorsement by, Gartner or any of its affiliates.