The latest update to PCRecruiter arrives on our SaaS recruitment platform this week, with user-requested adjustments to the Notes area, fresh charts in the PCR Analytics, and an additional field for Positions and Companies. In addition to the visible changes to PCRecruiter, extensive platform and API changes to support upcoming interface and automation improvements are included with this update.
Notes Updates
In our April 2021 update we revealed a new Notes Widget with a grid view, bookmarking feature, and keyword search. With valuable feedback from our users, we've further refined this interface with: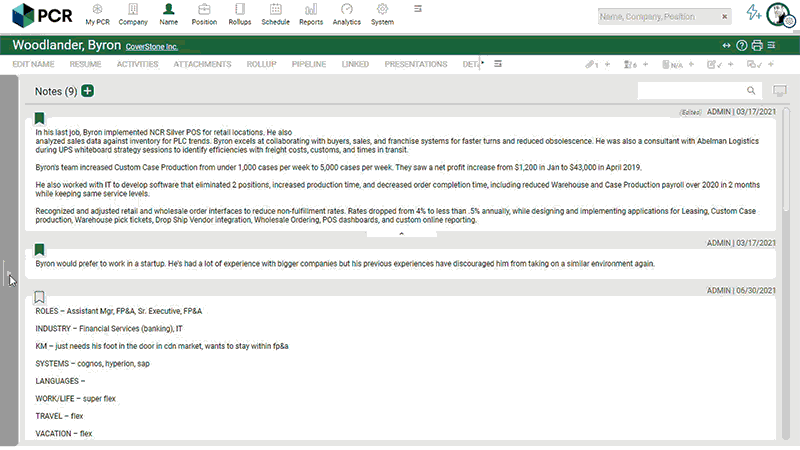 The 'Add Note' panel is now collapsed by default to allow more viewing area.
Once expanded, the Add panel can be resized by dragging the edge to create more entry space. The width you set will be remembered even after the panel is collapsed and re-opened later.
A new Expand All button allows all Notes boxes on the record to be viewed at their full-length in a single click. The Collapse button does the reverse.
Editing notes is now accomplished by simply clicking on the note. When you click outside of that note it will automatically save.
A right-click menu gives you quick access to Delete and Copy functions.
Analytics Details & Drill-Downs
The PCR Analytics, our optional graphic tool for analyzing and reporting on KPIs and other metrics, has been updated with a new 'Detailed Goals' chart with a breakdown of data by user. There is also a new drill-down available for the Key Metrics and Metrics sections that displays the individual records that make up your reported stats. The records associated with these items can be easily added to a Rollup List for further reporting, searching, emailing, and organizing.
Last Modified Field
Although Name records have long had a 'Last Modified' field, showing the date when the record had last been re-saved, this field was not available for Company and Position records. This update adds the same functionality to the other two primary record types.
---
Review PCRecruiter — Get a Gift Card
Thanks to reviewers like you, PCRecruiter continues be ranked as one of the top recruiting software, recruitment CRM, and ATS solutions on the market. The Summer 2021 reports from G2 have PCRecruiter once again in the 'Leader' quadrant and showing some of the highest customer satisfaction ratings in the industry. We appreciate your kudos and we look forward to continuing to satisfy your needs.
If you'd like to have your voice included, and get rewarded with a gift card for your time, you may do so at Software Reviews, G2, and Capterra.