One of the greatest strengths of PCRecruiter is its easy interoperability with other leading vendors. We are constantly adding new integrations, thanks to PCR's easily-used Open API and our desire to be the central hub of your recruitment operation.
In the next few weeks, we invite you to join us for two free webinar/demo sessions. On October 27, we'll be introducing our brand new partner Interseller. On November 11, we'll be reconnecting with Verified First, a valued partner since 2017. These sessions will be recorded, so even if you can't make it, please register to receive a recording afterward!
Interseller: Automation, Workflows, and More
Wednesday, October 27th at 2PM EST / 11AM PST

REGISTER FOR INTERSELLER SESSION HERE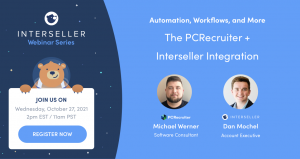 Interseller is a recruitment marketing automation tool. This system helps you source prospect email addresses and create email sequences to send to them. Once they've responded, you can instantly syncing their contact details back to your PCRecruiter database. This connection helps internal and external recruiting teams save time on searching for accurate contact information, doing manual follow ups, and updating their PCR records.
PCRecruiter's Michael Werner will be co-hosting a webinar with Dan Mochel from Interseller to see what the platform is capable of and how it can make you a more effective recruiter.
To schedule your own private demo of Interseller, click here.


Verified First: Fast & Thorough Background Screening
Thursday, November 18th at 12PM EST / 11AM PST
REGISTER FOR VERIFIED FIRST SESSION HERE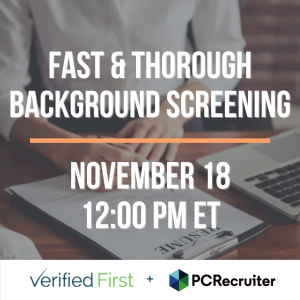 PCRecruiter is offering a webinar with our long-time partner, Verified First. As North America's premiere background and drug screening company, Verified First streamlines the hiring process for organizations of all sizes. This partnership helps you easily validate and verify potential hires without leaving PCRecruiter, and as a result you'll improve your time-to-hire when screening candidates, while complying with FCRA and EEOC laws.
On November 18, Verified First will be hosting a "deminar" that will highlight best practices for background screening. Experts from Verified First will show you just how easy it is to screen candidates right from your PCRecruiter screen.
Key takeaways:
Learn how background screening with the right company truly does optimize the cost per hire.
Get an exclusive, behind the scenes look into the best background screening company around.
Discover how to make the best recruiting and hiring decisions — and how to avoid the bad ones.
Explore the PCRecruiter platform with an expert.