For any type of recruiter, from permanent placement through to internal HR departments, the right applicant tracking system / software (ATS) can help you manage large quantities of applicants and candidates and make your recruitment process more efficient and effective. 
In this blog post, Stacy Racutt, PCRecruiter Training Manager, explores the basics behind applicant tracking software, and how the right solution can streamline workflows to enable you to make the right hires, faster.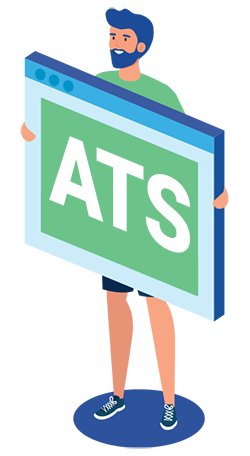 What is an applicant tracking system (ATS)?
An applicant tracking system (ATS) is a type of software which enables recruiters and employers to track applicants and candidates through the recruiting and hiring process.
Functionality is typically broad, covering everything from a candidate database to email and SMS integrations which help to streamline and automate communication between candidates, employers, and recruitment professionals.
The right ATS can facilitate the standardization and improvement of processes and workflows to achieve the bottom line: finding the best candidate for the role.
How an ATS works
Once a company's job descriptions have been created, they're typically posted on a job board on a website. This gives active candidates a window into what's available, allowing them to view open positions, and apply for suitable roles. 
After completing and submitting an online application, often uploading their resume or curriculum vitae (CV), applicant information is then captured and added to a database on the ATS. Once a candidate is in the system, recruiters can then interact with, and track, the progress of candidates throughout the recruitment process.
With PCRecruiter (PCR), any activity around a specific candidate can be tracked across the full range of communication channels including emails, SMS, and calls. This helps recruiters build a clear history of their relationship with a candidate. With every communication in a single, centralized record, it's easily accessible, and highly visible to recruiters and their managers.
Passive candidates take a slightly different path into the ATS. These people are not actively seeking a specific position, but may be open to the right opportunity. The PCR Capture tool enables employers and recruiters to parse candidate contact information from popular social media and professional websites such as LinkedIn, Facebook, and Indeed to create a record for them. 
Why use an Applicant Tracking System?
From a candidate application on a job board through to the final interview, some system to track the sourcing and placement process is a recruiting necessity. However, for many smaller-scale search firms, or recruiters who are just starting out, it's not uncommon for workflows to include manual processes, which are inefficient and vulnerable to human errors.
Over time, and with an ever-growing talent pool, it can become increasingly challenging to keep track of top talent and MPCs. They may lose out to competitors, have to settle for second best, or not make a placement at all. While sticky notes on a whiteboard or a series of Excel sheets might be a workable solution in the early days, the need for applicant tracking software quickly becomes obvious.
Digitally transformed recruitment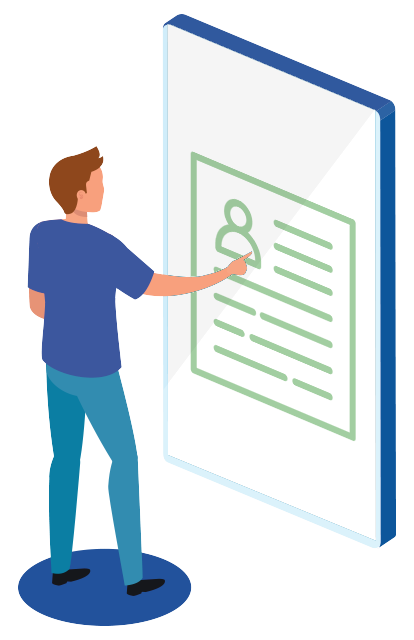 Digitization of manual recruitment processes usually leads to the use of spreadsheets to track candidate progress. If you're dealing with a very small data set and a narrow set of needs, a spreadsheet can do the job, up to a point. There may be nothing inherently wrong with a spreadsheet, but it wasn't designed with recruitment in mind, and it's not a searchable database of resumes or CVs, or a convenient way to track a process over specific dates and times.
A spreadsheet was built for numbers and data, and there comes a point when it's not the right tool for getting the job of recruitment done. On the other hand, digitalization represents a step on from simply transferring an existing paper-based system to a digital one. Digitalization of your recruitment process requires the use of cutting edge recruitment technology to add value and drive efficiencies to your day-to-day operations. Digitalization gives you the opportunity to improve your existing workflows by leveraging the potential of digital tools and their functionality.
For newer, scaling recruiters, the next logical step is to track and monitor candidates through an online recruitment platform. This acts like an ATS, but the information isn't unique to them. Essentially, it grants access to a shared talent pool, which is being mined by multiple firms. It isn't a private bank of contacts and resumes/CVs with a communication history that's ready and waiting when it's next needed for a potential hire.
History Matters
This history is really important. Why? If you have multiple recruiters in the same office, working in the same industry, it's important they're aware of each candidate's history with your organization. Has anyone else interviewed them previously? Is someone else currently trying to place them elsewhere?
Without a reliable ATS, it can be hard to tell.
Having a complete history of a person, even including feedback from a client, on file and at hand, immediately provides a head start and avoids crossover with other recruiters going after the same talent.
Furthermore, all of your own notes and actions regarding a candidate can make them easier to identify for future searches. Searching across the open web or paid candidate sources may only turn up those who are actively on the market, or may only provide partial information, whereas your private talent pool may contain that perfect candidate that has been in your roster all along, and who may not be accessible to anyone else.
And this is to say nothing of the benefits of keeping your job openings and client information on file in the same database with your candidates, allowing you to efficiently cross-reference, promote, and communicate.
How an ATS benefits recruiters and employers
There's no question that in a highly competitive job market, making effective use of the right ATS can give employers and recruiters the edge on their rivals when trying to acquire the best candidates. Here are five reasons to invest in an ATS:
Speed-up search by building a pool of talent which contains historical data, and personal details, which can come into play at any given moment in a future placement.
Centralize all communication, including calls, SMS, and email in one repository so that everything you know about a candidate is available with a just few clicks.
Greater visibility over your processes can help you refine and evolve workflows by creating automations, finding spots where you can drive efficiencies by eliminating repetitive, routine tasks.
Save time by creating re-usable templates for things like resumes, forms, and questionnaires. Upload online job postings quickly and efficiently to multiple sites.
Quickly identify passive candidates through your ever-growing, searchable library of candidate records, including all your previous interactions with them.
Choosing the right ATS
When a spreadsheet of contact information is no longer meeting your recruitment needs, and is actually slowing you down, an ATS gives you a lot more capability, versatility, and functionality. The right ATS allows you to do more with your data.
PCRecruiter is a fully customizable ATS and CRM designed to meet your specific recruitment needs, and works with your existing processes, evolving as you do. Pick the core and premium functionality that's right for you, and discover new ways to speed up your placement process, from scheduling call plans to capturing data from online sources.
See PCRecruiter in action. Book a demo today.