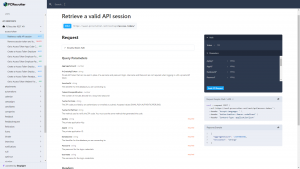 The PCRecruiter Application Programming Interface (API) is the set definitions and protocols that allow outside developers to build and integrate applications that connect to the PCRecruiter database.
The API is used by our partner vendors, such as job boards, background check services, and phone systems, to securely connect to the recruitment databases on our servers. It also allows PCRecruiter users to custom-develop solutions specific to their unique needs.
In an effort to communicate more easily and effectively with our current and future partners, as well as our clients' own hired programmers, we have fully updated our API documentation.
The new documentation is built on Stoplight, a global API platform that offers a number of enhancements for developers connecting to PCRecruiter.
New Tools for Easier Connections
With the updated API docs, we're making it easier than ever for developers to connect to our services and to expand the marketplace of tools available to PCRecruiter users. The new platform has many improvements, including:
A more standardized interface that will be familiar to users of other API tools.
New Code Samples in multiple popular languages, including Shell, JavaScript, Node, Python, Go, C, Obj-C, OCaml, C#, Java, Http, Clojure, Kotlin, PHP, Powershell, R, Ruby, and Swift.
A new search feature to help locate the information you need more quickly.
Revised content to make it easier understand and contextualize the API and its endpoints.
The public PCRecruiter REST API is available for free to all customers and vendors. See https://www.pcrecruiter.net/site/features/api/ to get started, and find the newly updated documentation at https://www.pcrecruiter.net/apidocs_v2