Voice and SMS for Recruiting and Staffing
Whether you're calling a business development prospect, texting a candidate to schedule an interview, or auto-dialing and messaging many contacts at once, you need to keep your communication logs and your recruitment data in one place. PCRecruiter makes this kind of voice and SMS workflow a reality.
PCRecruiter's Open API makes the development of integrations with leading VOIP providers and SMS providers simple. The system comes ready to link with your account on leading platforms like RingCentral and CallLogic, or to leverage dialing browser plugins like Google Voice.
Effective recruitment requires fast and trackable access to your contacts, clients, and candidates. Not only can PCRecruiter automate tracking of your email correspondence, both in and out of all of your devices and mail clients, but it also integrates with popular phone systems for call tracking and improved staffing and recruiting phone productivity.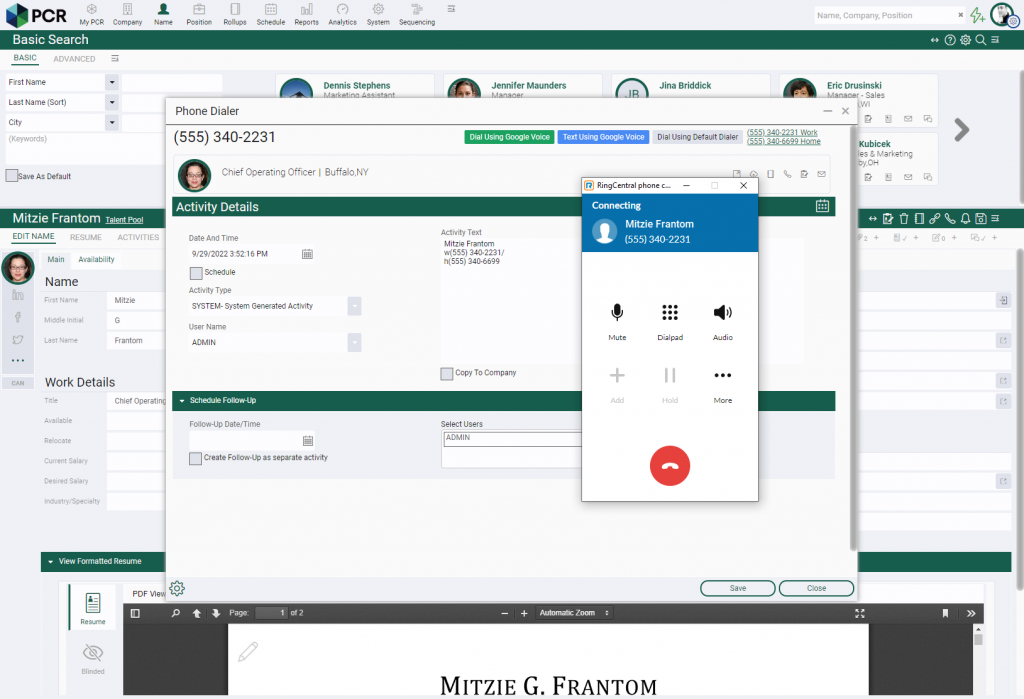 RingCentral's all-inclusive cloud phone system features HD video meetings, unified voice, fax, text, and audio conferencing. They deliver the high quality, reliability, and value expected by businesses from solo to enterprise.
Simplify communication with candidates and clients
Click to dial or text from any contact record in the database, making more dials faster.
Automatically record call attempts as activity records. This makes it easier than ever to report on your communications with contacts and candidates.
Save audio recordings of your calls and review text conversations.
When you receive an incoming call, the record matching that phone number in PCR are automatically loaded to prepare you for the call.
Create lists of names and send multiple texts at once.
Use in conjunction with Sequencing to streamline your workflow, sending automatic SMS messages on a pre-determined schedule.