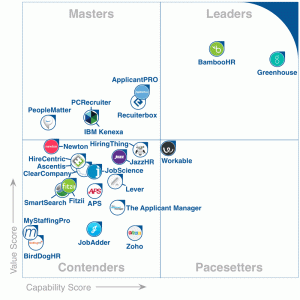 Earlier this year, SoftwareAdvice released their latest FrontRunners data. Main Sequence is proud to see PCRecruiter listed in the Masters quadrant, scoring 4+ out of 5 on most of the measured stats, such as Value (4.26) and Integrations (4.9).
FrontRunners is powered by Gartner Methodology and offers a data-driven assessment of the most capable and valuable systems for small businesses. It's driven by real user reviews/ratings, and verified product data.
The content for the FrontRunners quadrant is derived from actual end-user reviews and ratings as well as vendor-supplied and publicly available product and company information that gets applied against a documented methodology. The results neither represent the views of, nor constitute an endorsement by, Gartner or any of its affiliates.
Follow us on Facebook, Twitter, LinkedIn, join our LinkedIn Users Group, or YouTube to stay in the loop, and watch the lower portion of of your PCRecruiter login screen for all the latest blog posts and updates.