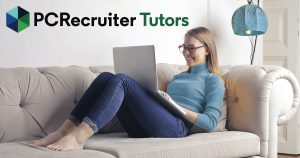 The PCRecruiter team wants to help you build more productive relationships with your clients and MPCs (Most Placeable Candidates) while effectively tracking performance for your team. To make sure you're getting the most out of PCRecruiter, our training and technical experts are following up the release of our new Learning Management System with a new series of free webinars.
The PCRecruiter Tutors series will cover helpful topics and new developments that can make you a more successful recruitment, staffing, or HR professional.
As always, personal training sessions with our team can be scheduled by emailing support@mainsequence.net
Upcoming Sessions
ALL SESSIONS on TUESDAYS at 1:00 PM Eastern
Recordings of all sessions will be available to all registrants.
Learn about all that the PCRecruiter add-on for G Suite has to offer. If you're a Gmail user and haven't taken advantage of this free utility yet, this session is for you!
Learn about the most powerful tool for submitting Candidates to Clients. We will dive into the available settings as well as the easy sending process for users. We will then take a look at it from the Client side, how the Resume will look to them, and how they can easily submit feedback.
This webinar will focus on configuring the PCRecruiter Analytics and viewing them. Please note that the Analytics is an add-on feature which may not be available on your particular account. The Analytics are highly configurable and dependent on your specific use of Activities and Pipeline records.
Join the team to learn the most effective ways to clean up your PCRecruiter database and rid yourself of old or incomplete data. We will discuss merging duplicates, running an inactive candidate report and more!
Attend this PCRecruiter webinar to master working with Rollup Lists. We will cover setting up and using Rollup Stages, Quick Comments, Ranking, Planning and more!
PCRecruiter Tutors Sessions
Previous sessions in this series can be viewed at https://learning.pcrecruiter.net/site/webinars, including topics like:
Adding and Managing Records
Activities, Scheduling, and Tracking User Activity
Bulk Emailing and Email Campaigns
Customizing Layouts and Copying Settings
Importing Spreadsheets
PCR Capture
Reporting
Searching and Creating Rollup Lists
Setting Up and Using RingCentral
Using the Pipeline
Using the PCR Portal for MS Outlook
Working with Resumes