A substantial update is coming to all PCRecruiter SaaS customers this week, featuring some powerful new recruitment Automation capabilities, a time-saving new connection between PCR web and the PCR apps for iOS and Android, and strong new integration with ZoomInfo.
We've also got an October 27 webinar planned with our new partner Interseller which you can register for today.
New Automation Builder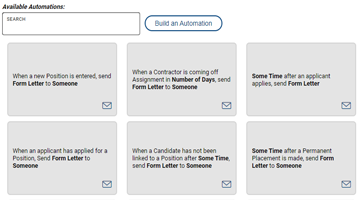 PCRecruiter has long offered productivity-enhancing automation features for Rollup Lists, Pipelines, Profiles, and the Job Board. With the features released in this update, the possibilities for recruitment workflow automation are expanded to include a new range of triggers, actions, and sequences.
With new trigger/action configuration panel now found under SYSTEM > Database Setup, any PCRecruiter admin user has the power to build endless custom behaviors with no code knowledge required.
Action triggers include common tasks like creating a new job and making a placement. You can also trigger automations when a contractor is coming off of an assignment or has not submitted their hours. You can trigger based on active applicants or passive candidates applying on your Job Board, or trigger actions based on practically any changes to fields or the entry of a new Activity.
When one of these events has occurred, PCR can automatically send a form letter, trigger a notification popup in the free PCRecruiter app (iOS / Android), or add and remove records from Rollup Lists. If you have RingCentral, PCR can send a text message for you.
You can start from any of the canned automations included or build your own from scratch to help keep your team informed and your database organized. We are looking forward to lots of creativity from our customers when putting these new recruitment automation tools to work!
Visit the Learning Center for Automations instructions.
ZoomInfo Integration
We've partnered with ZoomInfo, the world's most comprehensive B2B database, to allow anyone with ZoomInfo Elite or ZoomInfo Recruiter account to enhance their PCRecruiter records with the latest contact details from ZoomInfo's constantly updating database.
You'll find a shortcut to ZoomInfo Recruiter in the menu above the Name search, allowing you to jump directly into your ZoomInfo account to research and source contacts, and also an 'Update with ZoomInfo' option in the Action menu on your Name records.  This will open a sidebar that will feel familiar to users of our free PCR Capture plugin. In just a couple of clicks, your PCRecruiter records can be augmented and maintained. This is an excellent way to connect to the large array of data sources that feed ZoomInfo.
For more about this integration, see the ZoomInfo article in our Learning Center.
PCRecruiter App Dialing & SMS
We've created a new interaction between the PCRecruiter browser interface and the free PCRecruiter app (iOS / Android). With this new update, you'll be able to pass outbound phone dials or text messages to your mobile device from the PCR screen. Not only does this save time, but more importantly it makes it easier and more automatic to log Activity records about your communications as you make them. Many of our customers use their mobile devices as their primary business communication channel, and this feature is designed to make that choice easier than ever!
For more detail on setting up this dialing connection, see the Learning Center.
---
PCRecruiter + Interseller Webinar
Automation, Workflows, and More: The PCRecruiter + Interseller Integration
Wednesday, October 27th at 2PM EST / 11AM PST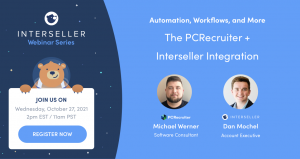 Interseller is a marketing automation tool that can help you source prospects emails and create email sequences to send to them, syncing their contact details back to your PCRecruiter database. PCRecruiter's Michael Werner will be co-hosting a webinar with Dan Mochel from Interseller to see what the platform is capable of and how it can make you a more effective recruiter. To schedule your own private demo of Interseller, click here.
---
Review PCRecruiter – Get a Gift Card!
In case you missed it, PCRecruiter was ranked the #1 ATS in customer relationship and had the highest user adoption in the recruitment marketing space according to the Fall 2021 report from G2. We want your voice to be heard when the Winter 2021 reports come out, so we encourage you to post a review of PCRecruiter at this link. You'll be eligible to receive a gift card from G2 in thanks for your thoughts.
We've also partnered with G2 in support of Girls Who Code. If you visit this link to submit your review, G2 will donate $10 to help close the gender gap in technology.
And if you've already posted a review on G2, you are welcome to review us on Capterra, SoftwareReviews, or TrustRadius! We appreciate all of the kind words and helpful feedback we read on these sites.