PCRecruiter's new update, v. 9.8.9, comes with two major upgrades that will help keep you and your team informed and in touch. As always, this update also includes dozens of behind-the-scenes fixes and enhancements. Plus, we have added brand new free webinars to our schedule for Spring/Summer 2022.
What's New in PCRecruiter 9.8.9
PCR Notifications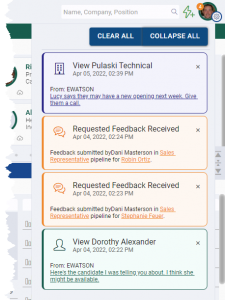 The brand new PCR Notifications give you configurable real-time alerts that you can use to communicate with your team and monitor key events in your recruitment process. These notifications appear at the bottom right corner of your PCRecruiter screen, where they remain visible for 5 seconds if none of the links contained in them are clicked on. If no action is taken on a notification, it is moved to the PCR Notifications sidebar, accessed via a numbered badge on your user icon at the top right corner of the screen. Notifications remain in the sidebar for up to seven days, or until the links in them are clicked on.
Send PCR Notifications to Co-Workers
A new Send PCR Notification option appears in the Action menu at the top of all Name, Company, and Position records in your database. By clicking on this option, you can send a PCR Notification including a live link to the current record, plus a brief message you define, to one or more users in your database. You'll find this feature helpful for coordinating with other PCR users and calling their attention to important records instantly.
Trigger PCR Notifications via Automations
PCR Notifications can also be sent using Automations, whether triggered by specific Pipeline step or Rollup stage changes, Candidate Presentations being viewed or responded to, or from the general Automations feature released in late 2021. When building any Automation that previously included Email, Text, or PCRecruiter mobile app Push notifications, you'll now find a PCR Notification option as well.
To support more useful PCR Notifications, this update comes with new date-based Automation triggers to use:
Start Date: You can now trigger Automations based on the Start Date from your contract or permanent placements. You can set the PCR Notification or other Action to occur on the Start Date, or a chosen number of days before or after the date. This can be useful in reminding users that their placed candidate is starting their job the next day, or prompting the user to make a check-in call seven days after the job has begun.
Activity Date: Like the Start Date, you can now trigger a PCR Notification or other action a number of days after a specific type of Activity has been written. This can be great for follow-up call reminders. In fact, you can now trigger Automations based on Activities with a specific Result as well – e.g. sending a PCR Notification based on phone call Activities where a voicemail was left, but not for those where there was no answer.
Field Date: You can also trigger Automations based on the date in practically any Standard or Custom field. For example, trigger a PCR Notification when a candidate's License is expiring, or remind the user to review each open Position 30 days after the 'Date Posted'.
These Automation triggers aren't exclusive to PCR Notifications. For example, you could use the Field Date trigger with a 'Date of Birth' field to send automatic birthday greetings to clients and candidates, automatically add Names to a calling Rollup List a year after they've completed a specific form, or automatically send a Form Letter to a candidate the day before their interview.
There was one other minor addition to the Automations in this update. The 'When an applicant applies to a Position, send Notification to Someone' canned automation included the option to send an SMS (via our RingCentral integration), but lacked the option to target the Candidate's phone number. We've added this into the new version, so that you can automatically prompt candidates to opt in to bulk texts or simply thank them for applying.
The possibilities for automating your process with PCRecruiter are growing all the time. We look forward to hearing about your own creative uses for Automations and PCR Notifications!
For more details and instructions, see https://learning.pcrecruiter.net/site/pcr-notifications
Feedback
The other major change in this update is the brand new Feedback area, which you'll find in the Navigation menu at the top of all Names, Companies, Positions, as well as in the Detail panel on the updated Pipeline (currently in final beta – ask your PCRecruiter representative for details).
The new Feedback screen consolidates and organizes feedback from users and external contacts into an easily viewed list, with filter and search options to help you find exactly what you're looking for.
Feedback can be entered by internal users from the 'Add Feedback' panel on the left side of the Feedback screen, collected via Candidate Presentations, or via emailed links using the brand new 'Feedback Form Letters.'
Note that any existing feedback collected using Candidate Presentations as well as feedback formerly located in the Interview Feedback on your Pipeline steps or interview records will now appear in the Feedback screen.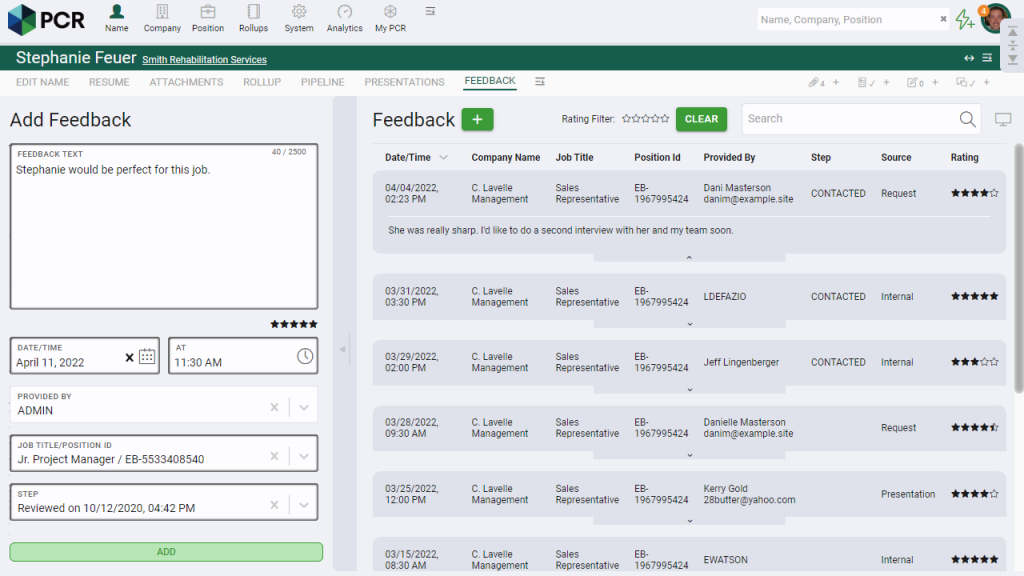 We have a ton of great updates on the way in 2022! Watch your own PCR Notifications for announcements of new features and more.
For more details and instructions, see https://learning.pcrecruiter.net/site/feedback
---
New Webinars Announced
These brand new sessions planned for Spring / Summer 2022 will all be taking place at 2 PM Eastern on Tuesdays.
PCRecruiter Job Board Overview – April 19
REGISTER NOW
PCRecruiter's Drew Rothman will walk through how the PCR Job Board is set up and what its capabilities are. This will be a useful session for those who aren't currently using the Job Board and want to know more, or who are using the older 'Candidate Web Extensions' and considering an upgrade.
Contractor Features – May 3
REGISTER NOW
In this session, you'll learn more about how PCRecruiter facilitates your contract or contract-to-perm process. In this session we'll discuss expense tracking with the ability to upload receipts and clock-in/out via the PCRecruiter mobile app. We'll also discuss hours approval and reporting.
Searching in PCRecruiter – May 17
REGISTER NOW
In this session, some of PCR's top trainers will discuss different methods of searching for names, companies, and jobs within your database.
New PCRecruiter Pipeline – May 31
REGISTER NOW
This session will cover the all-new PCRecruiter pipeline (coming soon) and how to set up and navigate all of the great features it has to offer. A great orientation for those moving from the older version or for those new to PCRecruiter in general.
PCRecruiter Sequencing Features
Part 1 – June 14 REGISTER NOW
Part 2 – June 28 REGISTER NOW
Part 3 – July 12 REGISTER NOW
The brand new sequencing features (coming soon) in PCRecruiter will help you automate marketing, communication, and other processes. Learn all about what they can do in this session, to be presented in a three part series.
PCRecruiter Customer Demo – July 26
REGISTER NOW
How do PCRecruiter users work in the system? In this session, we'll be talking with a PCRecruiter user about their particular configuration and how they've made PCRecruiter work for them.
---
Review PCRecruiter – Get a Gift Card!
PCRecruiter continues to receive top-billing on G2 and other review sites, ranking as one of the Top 10 Staffing software options based on independent reviews from users. The Spring 2022 reports from G2 rank us once again as a Leader and High Performer across multiple categories.
We want your voice to be heard when the next round reports come out, so we encourage you to post a review of PCRecruiter at this link. You'll be eligible to receive a gift card from G2 in thanks for your thoughts. If you'd prefer to put your review incentive towards a charitable cause, we've also partnered with G2 in support of Girls Who Code. If you visit this link to submit your review, G2 will donate $10 to help close the gender gap in technology.
And if you've already posted a review on G2, you are welcome to review us on Capterra, SoftwareReviews, or TrustRadius! We appreciate all of the kind words and helpful feedback we read on these sites.