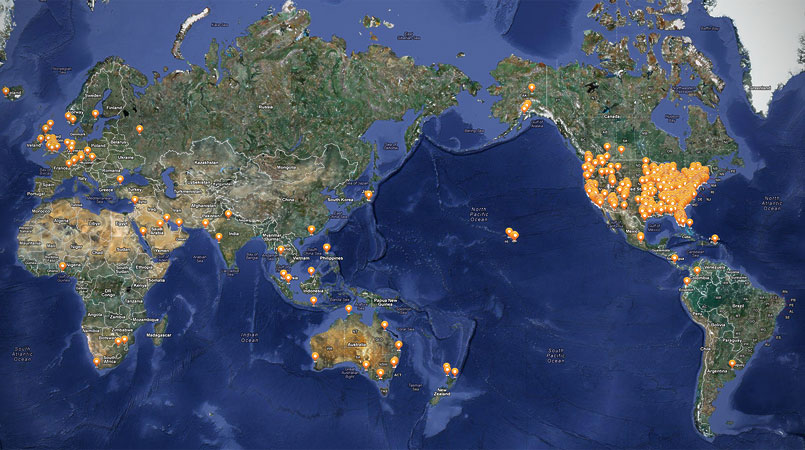 PCRecruiter is an global recruitment solution, making it adaptable to differing international markets, languages, currencies, and regions as well as locale-specific elements or language changes.
And of course, PCRecruiter is ready to help our EU users to manage GDPR-compliance with ease.
Translations
The PCRecruiter interface has been translated (in part or in full) into Chinese, Japanese, German, Arabic, French, Indonesian, and Spanish. Additional translations can be supplied by end-users. Translations are accomplished using UTF-8, and are triggered by automatic switching to the appropriate interface languages as detected from the visitor's web browser.
In addition to alternate languages, PCRecruiter is also globalized for international date format and currency options.
One Location, Or Many
Multi-location configurations can be managed by creating a separate database for each region, facilitated by PCR's record move/copy routines, or by connecting multiple application configurations of PCRecruiter to a single database. Your  sales consultant can help describe the cost and use-case differences between the approaches to best suit your global deployment needs and life-cycle cost requirements.
PCRecruiter has been deployed in over 70 countries, including: Antigua, Argentina, Australia, Austria, Azerbaijan, Bahamas, Bahrain, Belgium, Brazil, Canada, Chili, China, Columbia, Congo, Costa Rica, Czech Republic, Denmark, East Timor, Ecuador, Egypt, European Union, France, Germany, Ghana, Hong Kong, Iceland, India, Indonesia, Iraq, Ireland, Italy, Jamaica, Japan, Jordan, Kuwait, Lebanon, Malaysia, Mexico, Morocco, Netherlands, New Zealand, Nigeria, Norway, Pakistan, Panama, Philippines, Poland, Portugal, Puerto Rico, Romania, Russia, Saudi Arabia, Scotland, Sierra Leone, Singapore, Spain, South Africa, South Korea, Sweden, Switzerland, Taiwan, Tanzania, Thailand, Trinidad & Tobago, Turkmenistan, United Kingdom, United Arab Emirates, United States, Venezuela, and Zambia.