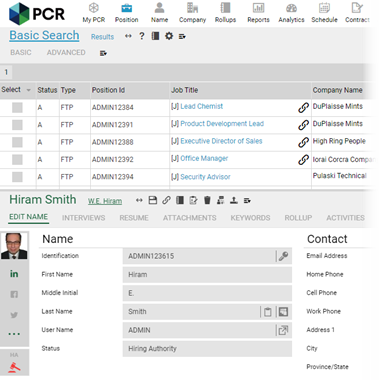 This week's update, releasing on Wednesday, brings design revisions to PCRecruiter that improve the look, feel, and function of the system. The interface modernization you'll find in this update is merely the first step toward a completely revised PCRecruiter UI that will be rolled out through 2020.
New Styling
You'll see new styling that helps put the focus on your data, with clearer headings, new color highlights, revised MyPCR graphics, and fewer icons.
We've also taken the existing Name, Company, and Position highlight colors and extended them into Rollups, Search Results, and navigation menus. These highlights help users make more focused clicks and ease learning of the system.
Nav Improvements
The new update includes a new option to snap your Action menus to the left or right of the screen, reducing 'mouse travel' and making your navigation more efficient. We've also clarified the top/bottom frame-scaling controls, making it easier to adjust the window heights to your needs on the fly.
Color Themes
By popular demand, this release also includes user-selectable color themes. The initial round of themes include Dark Mode, Grey, and Ocean Blue, plus an alternate 'Condensed' Dark Mode that uses a narrower font for maximizing space on smaller screens.
More light and dark color palettes are in development and scheduled for release later this year.
We look forward to sharing even bigger changes with you! Watch for future announcement banners when you log into PCRecruiter and follow us on our social networks linked below. As always, we want to hear our users' ideas on future updates to PCRecruiter, so please visit the Ideas and Requests Forum in our helpdesk to comment or to upvote the ideas that you like best.
---
Reminder: Webinar with Verified First on April 8
PCRecruiter is proud to partner with a variety of top-tier vendors, including LogicMelon, Resume Library, SenseHQ, and more. One of our long-time partners, Verified First, will be hosting a webinar on February 18 at 11 Eastern to show how their background and drug screening system works with PCR. We invite you to sign up for this informative session at https://verifiedfirst.com/2020webinar-pcrecruiter/
---
Review PCR and get a $10 gift card.
Get a $10 gift card for sharing your review of PCRecruiter with Capterra! Click here to get started. Limited to the first 100 reviews only!