G2, the world's largest and most trusted software marketplace, has released their Fall 2022 Reports today. In the latest report, PCRecruiter received four new Leader badges, three new High Performer badges, and was ranked Top 10 in ten reports. These recognitions are based entirely on independent reviews submitted by real PCRecruiter users.
We were particularly pleased to receive a Top 3 slot in the Small-Business Relationship Index for Applicant Tracking Systems, indicating that when it comes to ease of doing business with, quality of support, and likeliness to recommend, PCRecruiter is one of the best ATS software options for companies of 1-50 employees.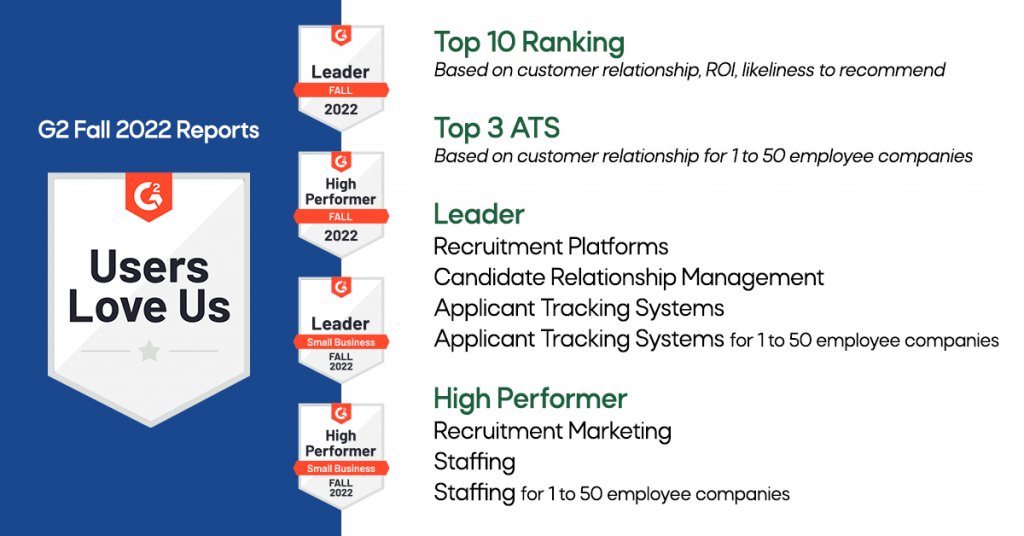 "Rankings on G2 reports are based on data provided to us by real software buyers," said Sara Rossio, Chief Product Officer at G2. "Potential buyers know they can trust these insights when researching and selecting software because they're rooted in vetted, verified, and authentic reviews."
We are deeply appreciative of your kind words about our software and we look forward to continuing to build on this success. If you're a PCRecruiter user, we would love to have your thoughts included in G2's Winter 2023 rankings. Click here to submit your own review now.
About G2
G2 is the world's largest and most trusted software marketplace. More than 60 million people annually — including employees at all of the FORTUNE 500 — use G2 to make smarter software decisions based on authentic peer reviews. Thousands of software and services companies of all sizes partner with G2 to build their reputation, manage their software spend, and grow their business – including Salesforce, HubSpot, Zoom, and Adobe. To learn more about where you go for software, visit www.g2.com and follow us on Twitter and LinkedIn.